Extreme Plane-Spotting at Maho Beach
About 4 hours 30 min
$ 22.00 per Adult
$ 18.70 per Child (3-12)
Turn-up your Caribbean vacation at the most famous beach on Saint Maarten, Maho Beach. This attraction is unmatched as low-flying jet-planes literally are a few feet above beachgoers—a thrill worth experiencing.

As we head out westward from the Philipsburg port into the welcoming sunshine to relax and enjoy the tantalizing turquoise blue Caribbean waters complimented with the smooth white powder sand of Maho Beach, you will meet other patrons of the famous Sunset Beach Bar that are plane enthusiast like yourself, sipping cocktails (own expense) while actually feeling the vibrations of incoming and outgoing planes.

Feel your adrenaline soar as you focus your camera to score some impressive pics of the arriving jumbo jets. The planes veer overhead to land at the nearby runway of Princess Juliana International Airport (SXM). Your day of beaching combined with extreme plane spotting has begun!!!
Tour Activities:
Beach Activities
Plane Watching
Restaurants & Bars
Sightseeing
Recommendations:
This is a beach tour so wear your swimsuit and bring along a towel, sunscreen, hat, sunglasses, a camera.
Tour Schedule:
Departure:

10 am

(Island Time).
Tour duration is about

4 h 30 min

Round trip transfer
From a Cruiseship?
Our tours are organized to ensure a timely return to the cruise dock for boarding.
Departure place: cruise guests should meet us at the EDC Lot near the cruise terminal.
From an Hotel?
Hotel guests will be picked up 30 minutes prior to departure time (Free transfer).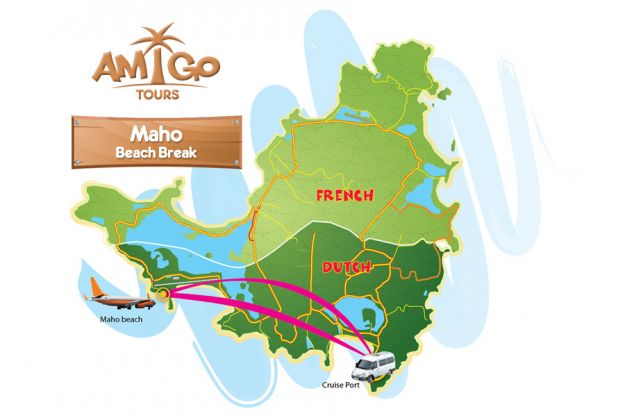 This round-trip transfer takes you from St. Maarten cruise port with a drive along the Great Salt Pond. You will enjoy the best aerial views on the island with a stop on Cole Bay hill that will take your breath away. The views of the nearby islands of Saba, St. Eustatius, Anguilla and the cosmopolitan village of Simpson Bay are picture perfect.

When you arrive at Maho Beach, the Sunset Beach Bar & Grill has the flight arrivals listed on a surfboard for plane watchers not to miss a landing while they are having a bite to eat (own expense), and to top it off a live feed is aired of the communication between the airport control tower and the arriving aircraft. Get to lounge under the shadows of jetliners from small to extremely large such as the A330 of Air France and KLM's 747 directly from Europe.

Heard about "fence surfing"? Well booking this tour will definitely introduce you to a new unique activity.

After you got jet blasted the coach will take you back to the cruise port in plenty of time to board the ship. Definitely your experience will not be described as a typical beach day.